So this trip I was yakless because I did not have time to load everything up. It is my daughter's birthday today and I needed to be home because the house will be filled with 9-10 year old girls and I think my wife needs the support.
I decided to go fishing because for some reason I got up at 4am this morning and could not sleep. What else could I do??? I went back to The Fox River at Glenwood Park and was pleasantly surprised that when I got there the place was actually opened up not like Cook County that opens up very late.
I noticed the river was slightly higher than last time but not too bad. I started fishing boulders and riffles with a 3" pumpkin chartreuse twister tail and a white buzz bait. I have been seeing a lot of guys on
www.windycityfishing.com
doing well with jigs so I figured I would try to use these today. I got nothing on the pumpkin jig and went to the buzz bait in a calm slack water area and got nothing. I saw that
KenG
, owner of waterdog journal, did well with white grubs and I purchased some 4" white Cabela's action tail jigs last night and put that on.
I started off casting up current and letting the jigs drift with the current and than once down stream jigged and reeled in with no success. I started to cast parallel to shore and reel in a little more aggressively and within five minutes of doing so got my first hit. It was a 12" smallie but I am so impressed with the way these river fish fight I thought it was a lot bigger. Still I felt good about getting that fish. I cast back in the same general area and got another hit almost immediately but it was a short strike and I lost him. I was fishing the jig more aggressively and my hits came either parallel to shore or I would cast up stream and instead of letting the jig drift with the current, I would start reeling and get the jig either in front of, to the side, or behind any rocks or obstructions under the water. The fish were just about coming out of the water to get the jig.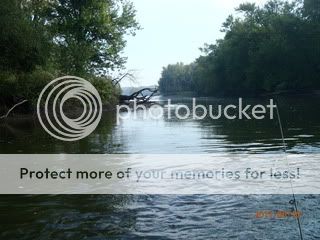 I had to leave after only an hour and a half because it is my daughter's birthday today and I wanted to get home but I think with your help I am starting to develop patterns for the river. You guys are great and the information you provide has really helped me in my quest to fish the river. I am still looking for a bigger fish now but could not be more happy to have gotten action today. I only got 5 but missed 8 and if I had a smaller jig I think that some of the short strikes would have been converted.
Here is a vid as always and this is a really great area and did not see another soul out there today!!!